ParkWood Sponsors Hampshire Cricket Player
By:
ParkWood Document Solutions
On:
20/05/2011
At:
15:00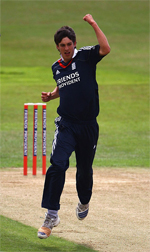 ParkWood Document Solutions are proud to announce their recent tie up with Hampshire Cricket Club. This year ParkWood will be sponsoring the young and promising player Chris Wood. Wearing shirt number 25 Chris is a Left arm medium fast bowler and right handed batsmen and we wish him all the very best for the season.
Chris is an up and coming young player who has played for England U19 and is becoming an ever more important player in the Hampshire senior squad. We look forward to continuing to support him and Youth cricket at Hampshire.