Sharp MFPs with finger-swipe touch control
By:
ParkWood Document Solutions
On:
05/03/2011
At:
10:00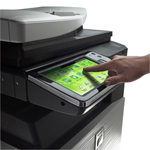 The new MX-2610N and MX-3110N feature a 10.1" control panel, on which users can touch icons then tap, flick or slide a finger to access every document, function and setting. Sharp believes that the technology will revolutionise the way in which people interact with MFPs, just as it did for cell phones.
"This type of control interface is truly intuitive. That's why it has become so popular with other devices," said Marc Brion, product marketing manager for information systems hardware. "You don't need to work out how to do something - just touch the panel and slide your finger. For many people, it will be a very familiar experience."
A familiar experience
The MX-2610N and MX-3110N were designed for maximum ease of use and a minimum learning curve. The control screen, for example, with its large, clear text and icons for controlling every single feature and function, can be tilted up or down for easy viewing - even from a wheelchair.
Scanned pages can be previewed on the screen as 1-Page, 3D or thumbnail images, and entirely controlled by the finger-swipe interface. The user simply touches and slides to rotate them, change their order, add or delete pages, and then print, file or distribute as required.
The 'user experience' is fully customisable, too. Individuals can create personalised home screens on the control panel, giving them front-page access to the tools and applications they use most often, set against a choice of seven background styles.